Framagraphic's art gallery is proud to feature two new works by artist Mark Berens. These rich oil paintings are the latest additions to our collection of original art.

Warmth Through The Woods by Mark Berens
The works, entitled Vermillion Views and Warmth Through The Woods are done with oil paint on wooden board. They are 5 feet wide and 20 inches in height. Perfect for that spot above the couch.
These oil paintings will take you back into the forest on a fall day with the rich oranges and deep earthy reds of the fallen leaves. Like a sunny Thanksgiving weekend at the cottage, you almost want to put on your favourite sweater and step into these paintings. If you listen closely, you can hear the leaves crunching under your feet.

Vermillion Views by Mark Berens
Photographs don't really do them justice –you really have to come in to our gallery and see these paintings in person. The rich dabs of paint stand out on the board –almost as if Berens has painted every single leaf in the scene.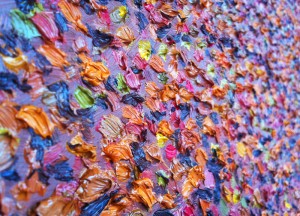 Close up view of the brush strokes in Warmth Through The Woods.
This is Mark Berens' biography:
It all started in Whistler. Mark Berens had an epiphany there during a ski trip one year that reignited his passion with the outside world. He instantly began a new artistic journey – representing landscapes through oil paint. Since this poignant trip, Berens has traveled to many parts of Canada in search of picturesque scenes that would inspire new landscape paintings.
From an early age, Mark Berens was immersed in the world of painting, as both of his grandparents were artists. He still recalls memories of the oily scent of his grandmother's studio space. Berens started experimenting with oils during his first year at the Ontario College of Art and Design, and instantly found it to be his medium of choice.
The surface quality of his landscapes is fabulous. Berens is particularly noted for his ability to capture depth and light through textured dabs of a well-calculated colour palette. It is almost as if you could reach out and pick up one of his fallen leaves. Through closer inspection, the quality of the paint reveals itself in an almost abstract manner.
Now showing with art galleries all over North America, Mark Berens happily works as a professional artist whose works adorn the walls of many fond admirers