Framagraphic is proud to be a donor for Ballet BC's Silent Auction Gala at the world premiere of Giselle by Resident Choreographer José Navas. Giselle will run April 25 – 27 at 8 pm at the Queen Elizabeth Theatre.
The performance, from the choreography to the all-Canadian production design, works out a contemporary take on a legendary classic. Witnessing the story of love and loss, Janet Smith of the Georgia Straight comments, "they are creatures from the second act's vision of the afterlife, and it looks like the world's most graceful mosh pit until they all pull back into synchronization again."
Tickets for the performances are still available online at Ticketmaster.
Framagraphic will be donating an original painting Peaceful Valley by Marie-Claude Boucher for the Gala.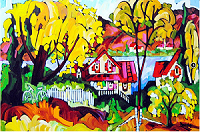 Marie-Claude Boucher was born in Charny, Quebec in 1973. Her interest in art began with drawing with her twin sister at an early age, and painting has since become her passion.
She studied Latin, Spanish language and French literature at McGill University, and briefly pursued a career in teaching before choosing to devote her time to painting.
Marie-Claude maintains a palette of primary and pure colours. She has developed her distinct style with the use of spontaneous and rapid brush strokes: "I am not looking for perfection in the details, but rather simplicity in my Quebec settings."
She has chosen to focus on the rural settings of her youth where she spent all of her summers in Notre-Dame-du-Lac. Churches, red roofs, simple Quebec homes and fences are her favourite subject.