Marie-Claude Boucher is one of our most talked-about original artists at Framagraphic. As soon as we hung one of her paintings in the window, people started coming in to ask about her. "Who did that?" "Where did these come from?" "Are these for real?"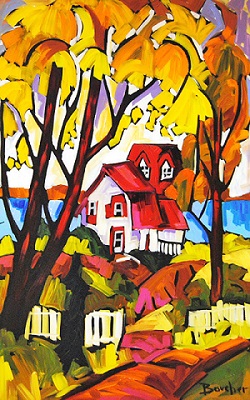 They really are. Boucher paints with bright juicy acrylics on canvas -paintings so colourful they can stop traffic on Broadway. Juicy is not a common term in the art world but it just seems perfect for Marie-Claude's work. These paintings will light up the drabbest of rooms and bring a sense of happiness to anyone.
If you had one of these paintings in your home, your friends would ask you to have more dinner parties so they could come over and see them as often as they could.
Marie-Claude Boucher is from Quebec -many people guess that from her works –with the bright red roofs of the houses, the church steeples and landscapes with The Fleuve in the background.
This is her biography:
Marie-Claude Boucher was born in Charny, Quebec in 1973. Her interest in art began at an early age while drawing with her twin sister.
Marie-Claude Boucher obtained her bachelor's degree in Art and French Literature from McGill University. While at McGill, she also studied Latin, Spanish and Education. Upon graduating she briefly pursued a career in teaching before choosing to devote all her time to painting.
Boucher maintains a palette of primary and pure colours. She has developed her style with the use of spontaneous and confident brush strokes: "I am not looking for perfection in the details, but rather simplicity in my settings." It is in the countryside where she finds her inspiration, often interpreted through welcoming red-roofed houses and bicycles. The liveliness in her painting style allows us to appreciate her personal zest for the act of painting, and her colourful approach bears her inimitable signature.
Boucher considers herself a contemporary landscape artist with an expressionist twist. Marie-Claude has been involved with many successful shows in Ontario. Her paintings adorn the covers of many greeting cards and her uplifting style has also been used to illustrate "Super Katie to the Rescue", a children's book that accommodates her whimsical style in a unique figurative approach. She was recently proud to announce that her paintings will soon decorate the Montreal Children's Hospital.