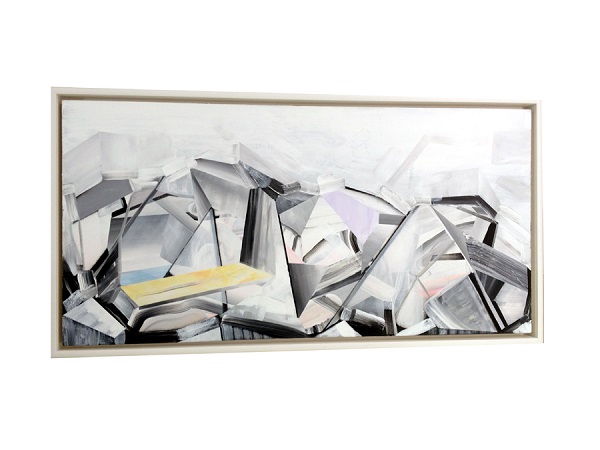 We recently had the opportunity to frame a painting by Vancouver-based artist, Russell Leng, for one of our clients. The client framed a canvas of Leng's original work Geometric Landscapes (pictured above), which is characteristic of his interest in the relationship between organic marks and geometric forms. The tension between the seemingly hard edges of specific forms, and the looseness of brushstrokes creates a truly dynamic painting. Leng notes this phenomenon in nature as well, "a tree breaking through a concrete sidewalk, or a housing development by a river. I want to examine these relationships between natural and built landscapes, conjuring a new sense of place. By confronting the viewer's perception of landscape, I aim to question how these unceasing amalgamations change how we identify with our environments, and perceive ourselves within them."
The float frame is a similar mix of shape. The overall squareness of both the frame and the corners is contradicted by the slightly curved profile of the face of the frame. White is a frame that pronounces colourful artwork extremely well. The white helps to bounce the light from the frame onto the canvas, drawing your eye directly towards the subtle hues of the paint.
Leng holds a B.A. in Art from Trinity Western University and has been the recipient of several awards, including 1st Place Painting Prize from the Surrey Art Gallery, a BMO Student Invitational nomination, and 2nd place for best cover at the 2009 CMA awards. Russell's work has been exhibited locally and abroad and has been featured in numerous online and print publications.
His prints are available online at Little Paper Planes and Mammoth and Company.