We pride ourselves on taking custom framing challenges. Our latest framing task was this pair of Turkish camel bags. This wool piece was brought back to Vancouver from travels abroad and had been mounted unframed on a wall for a number of years.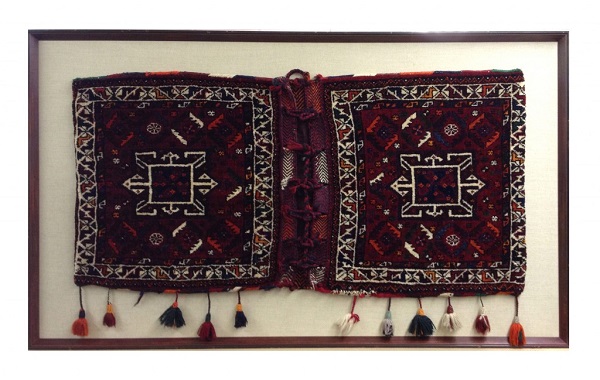 Our customer wanted to frame the piece to give it more of a presence on the wall. To create the appearance of a linen liner, Keith stretched fabric over a wooden board. The bags were then secured onto the board by drilling in through the back.
Using the wooden board had the added benefit of opening up the selection of frames that could be used for this piece. At 66″ x 38″, this large piece had quite a bit of weight. Without the board, the customer would have had to pick a much thicker and stronger style of frame just to be able to support the weight. Because this was no longer a concern, the frame would be simply decorative. This Florentine Rose frame has a bit of a distressed and rustic look. The reds and dark browns really pull the colour out of the wool. This frame also has a deep and angular face. The depth of the bags is shallower than the face of the frame so the piece hangs comfortably within it. Playfully, the tassels just barely graze the bottom of the frame. Some of the shorter ones cast a shadow along the inside of the frame which really adds to the depth of the whole piece.
Camels are an important part of Turkish culture and industry. Camel wrestling has traditionally been one of Turkey's "roaring and colourful" pastimes. Last year Turkey expanded its camel activities by hosting the first ever Camel Beauty Contest.