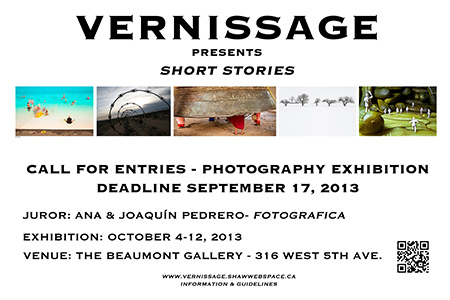 Framagraphic
is pleased to offer discounted
custom framing service
s for photographers interested in submitting work to Vernissage's
Short Stories
photography exhibition. The call is free of charge, and open to all Lower Mainland photographers.
This juried group exhibition will examine contemporary story telling through a series of images exploring personal, familial, cultural and/or universal imagery. The jury is looking for a cohesive series; perhaps an excerpt from a larger body of work. Photography is often associated with documentary- the photograph being a record of something that was, or something that happened. It is also often associated with truth- with dutifully recording what appeared before the lens. Where
story
comes in to a photograph is not as easy to identify. The lens snaps shut in an instant. Movement is frozen, mouths are caught open, and
time
, which is essential to story telling, is eclipsed.
This challenge posed by Short Stories, to present still images with the capacity to speak, is sure to bring forth a host of interesting and compelling photographs.
The finalists will be exhibited at the Beaumont Gallery October 4 – 12.
Full Details and Prospectus www.vernissage.shawwebspace.ca
Vernissage Photography Exhibitions — Short Stories
Entry
Deadline: September 17, 2013
Exhibition Date: October 4 – 12, 2013
Venue: The Beaumont Gallery, West 5th Ave Vancouver
Entry Fee: Free
Awards:2
Eligible: All Lower Mainland Photographers 18+
Contact Rita [email protected]
Rita Minichiello
Vernissage Photography & Exhibitions
Facebook
The Beaumont Studios
studio #9 316 West 5th Ave
Vancouver BC
Vernissage supports photographic artists