Our customers often ask us about making recognition plates to go with their artwork. Recognition plates are often referred to as brass plaques but the technical term is a plate. And they are not always brass colored.
A recognition plate is a great way to acknowledge someone's achievements at work or in sports, for example. We have had plates made up to recognize someone's contribution to a board of directors, for example, or to go with a photo, a ribbon, and a bib after someone runs a marathon or wins a dragon boat race. Recognition plates are also commonly used when we frame war medals or other mementos like baby shoes or a sports jersey.
Gold, Silver, or Black recognition plates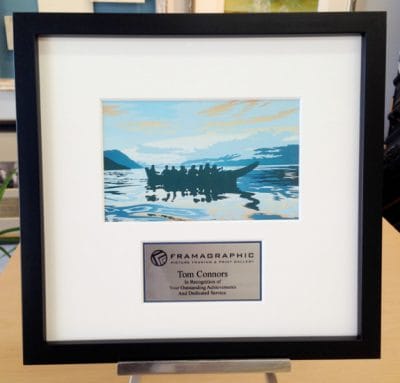 This is an engraved brass-colored plate we had made as an example for our shop's sample wall. A brass-colored plate with engraved lettering outlining the names of the Kenora Thistles hockey team that won the Stanley Cup way back in 1907.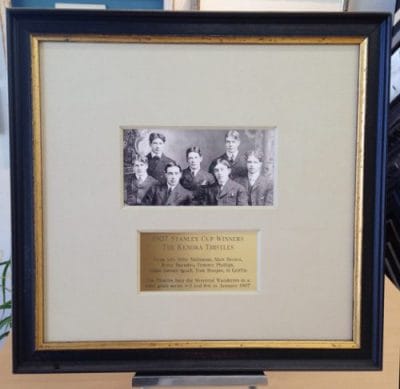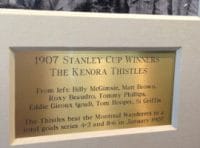 Here is an example we made for our display wall in the shop: we used a card with an image of a big canoe team by artist Roy Henry Vickers and added a silver-colored plate below it to recognize the efforts of an employee. The canoe symbolizes teamwork and "pulling together." Get it? In this case, we used our own corporate logo along with some text. This plate is silver-colored with black lettering printed in a process called sublimation. In this case, we left a sliver of space between the plate and the white mat to show the blue mat underneath for a touch of added color.
We don't actually make these plates ourselves but we work with a company that specializes in this sort of thing. If you send us the text in an email, we can take it from there and arrange to have your plate plaque made up to suit the piece. Plates can be brass, gold, silver, or black colored in both shiny and matte finishes.
And, yes, we can incorporate your company's logo into the plate, if you'd like. And they can even do some things in color.