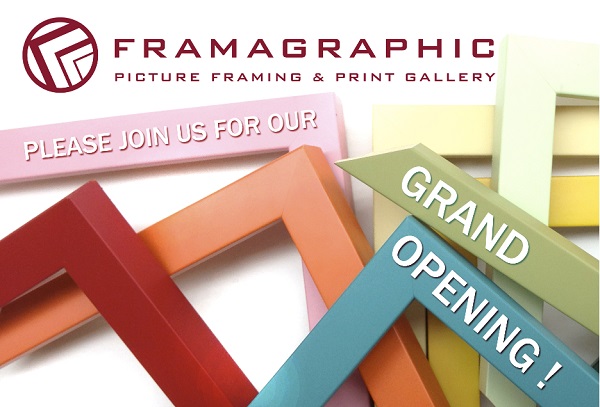 GRAND OPENING SALE!
30% OFF CUSTOM FRAMING FROM MARCH 5TH TO APRIL 5TH
Framagraphic is celebrating the grand opening of our new location with a custom framing sale. Please join us in the coming month and receive 30% off* your custom framing order.  Our new location is 8 – 1128 West Broadway, just two doors west of our previous location.
*Not to be used in combination with any other discounts.
Custom Design for Quality Frames
Framagraphic Picture Framing & Print Gallery
Feel free to drop-in at your leisure with artwork and inquiries, or make an appointment for a design consultation. Parking is available in the pay-lot behind the store.
Established in 1976, Framagraphic is a Vancouver-based custom picture framing and print gallery, specialized in conservation framing. All materials are archival standard – from the matting to the glazing, to the techniques used to secure your artwork in its frame. Our framers  approach projects for Vancouver's finest art galleries and carefully rendered fridge scribblings with the same attentiveness. All canvas stretching, repair work, shadow boxes, and custom framing is completed in our workshop. We work closely with other fine art services in the city,  and are also able to provide printing and plaquemounting.